Michael Jordan's Watch Collection: The King Of The Court
Watch & Bullion
28 May 2020 |

6

min read
Michael Jordan's Watch Collection:
The King of the Court
Widely regarded as the greatest basketball player to ever grace the court, Michael Jordan is known in every single corner of the globe. His feats with the Chicago Bulls during the 90's shot him into stardom making him one of the most decorated basketball players of all time.
Michael Jordan has recently been plunged back into the 2020 spotlight, following the release of a Netflix series called 'The Last Dance.' The documentary chronicles his exceptional career, whilst focusing on the 1997/8 season which was Jordan's last with the Chicago franchise.
Wealthy endorsement deals come hand in hand with sports success and thanks to continued work with Nike, Gatorade and Hanes, Michael Jordan is also one of the richest sports stars on the planet with Forbes placing his worth at over $2bn in 2020.
With great wealth comes the opportunity to invest in great luxury, and that's exactly what Michael Jordan does. Alongside a number of mansions, cars, a boat and a private jet, Jordan also has a pretty impressive watch collection! Jordan's been spotted wearing many many many different pieces but we're going to pick out 5 of the best – some which are quite well known and others a little more unique!
Quick-Scroll Links:
Rolex Daytona Platinum 
We start off by taking a look at a watch most readers will be somewhat familiar with and that's the Rolex Daytona. Michael has a number of different Rolex pieces including a variety of GMT-Master models but is often seen sporting his Daytona.
Michael was spotted wearing this iconic Rolex piece during an NBA playoff game back in 2014, drawing envy from fellow spectators and watch enthusiasts alike. The Daytona has a long history dating all the way back to the 1960's and we've seen a number of different Daytona styles over that 60 year history. 
The specific Rolex model Michael is photographed with, and is shown above, is a special edition released to mark the 50th anniversary of the Daytona in 2013 (Reference 116506.) This model comes on platinum, sits at 44mm, features a caliber 4130 movement, utilises high quality AR sapphire crystal and comes with both chronograph and cosmograph complications. 
Panerai PAM 172 Luminor Marina
The second watch from Jordan's collection that we're going to take a look at comes from the popular Italian watchmaker, Panerai. For those of you familiar with the Watch & Bullion blog, we've recently put together a piece on the most iconic Italian watches and the Luminor range, similar to the one Michael was wearing below whilst spectating the US Open in 2014, was top of the list!
Like Jordan, this watch is something extra special and as with the Daytona isn't a standard piece from the Panerai range. The Panerai PAM 172 Luminor Marina comprises a unique tantalum composition, a rare metal that gives the watch a slightly blue hue over its standard grey metal.
As with the Daytona, this is a big watch at 44mm. It's big on specs too, mixing features such as sapphire crystal, a small seconds hand at the 9 o'clock and a 56-hour chronometer movement with a camel leather strap. Best of all for Jordan, this limited edition piece was one of only 300 ever produced so became an instant collectors item within the Panerai community.
Given the small number of PAM 172's ever produced, you won't be buying one of these brand new from Panerai anymore.
Roger Dubuis Excalibur Spider Pirelli
Now moving onto a brand that may not be as well known. In the recent documentary of Jordan's life, The Last Dance, the superstar was interviewed multiple times in one of his extraordinary mansions. In one particular interview, he caught the eye of audiences with a very different watch, the Roger Dubuis Excalibur Spider Pirelli.
For those not completely up to speed with Roger Dubuis, the Swiss brand was founded in 1995 by Roger Dubuis and Carlos Dias and over the last 25 years have worked to create high quality watches with modern design twists. They've also partnered with high performance racing brands such as Lamborghini and Pirelli, the latter giving this particular watch its unique twist!
The skeleton design of this watch beautifully frames the RD820SQ movement which packs a 60 hour power reserve operating away at a 4hz frequency. The thing that makes this watch truly unique though is it's strap, which is made out of the genuine rubber of Formula 1 car tyres – no better way to embody high performance than coming directly from the fastest cars on the planet, right Mike?
These pieces come in a range of different colour options but interestingly, Roger Dubuis are limited their production at just 88 units per model.

IWC Big Pilot
As we know, Michael Jordan is a big guy and whilst all of the watches in our roundup so far have been big, this next one is huge! Pictured on the day he was presented with the Presidential Medal of Freedom from Barack Obama, Michael is sporting the IWC Big Pilot, a classy and understated aviation themed watch.
This watch gets the ironic model name of 'Le Petit Prince' given the fact it measures up at a whopping 46mm. Coming on top of a leather strap, the Big Pilot incorporates a date indicator window at the 6 o'clock position alongside a power reserve indicator at 3 o'clock. And that's a hell of a big power reserve meter too as this watch packs in a whopping 168hrs (7 days) of juice! 
Price wise, this is a watch of Michael Jordan's that those on a modest luxury budget may actually be able to afford. Brand new, an IWC Pilot such as the one pictured above will set you back just under £12K at £11,900! If you head to the pre-owned sites though, you'll easily find something around the £8,000 – so it's a good bargain to be had if you want to be like Mike!
Richard Mille RM032 Diver Flyback Chronograph
The last watch of this roundup is one that will be familiar to most people connected to watchmaking. Richard Mille don't shy away from getting their watches on the wrist of famous sports stars and Michael Jordan has often been seen wearing the superb Richard Mille RM032. Just like Jordan, this piece is known for its high performance!
Originally created as a divers watch, the RM032 prides itself on its ability to keep super accurate time during even the most stressful conditions. With resistance down to 300m, the RM032 is packed with complications including date, small seconds, minutes, hours and 12 hour indicators all accompanying a flyback chronograph. As always, the skeleton design means the wearer can see the complex movements at work which is great given there's a lot to see inside this 50mm monster!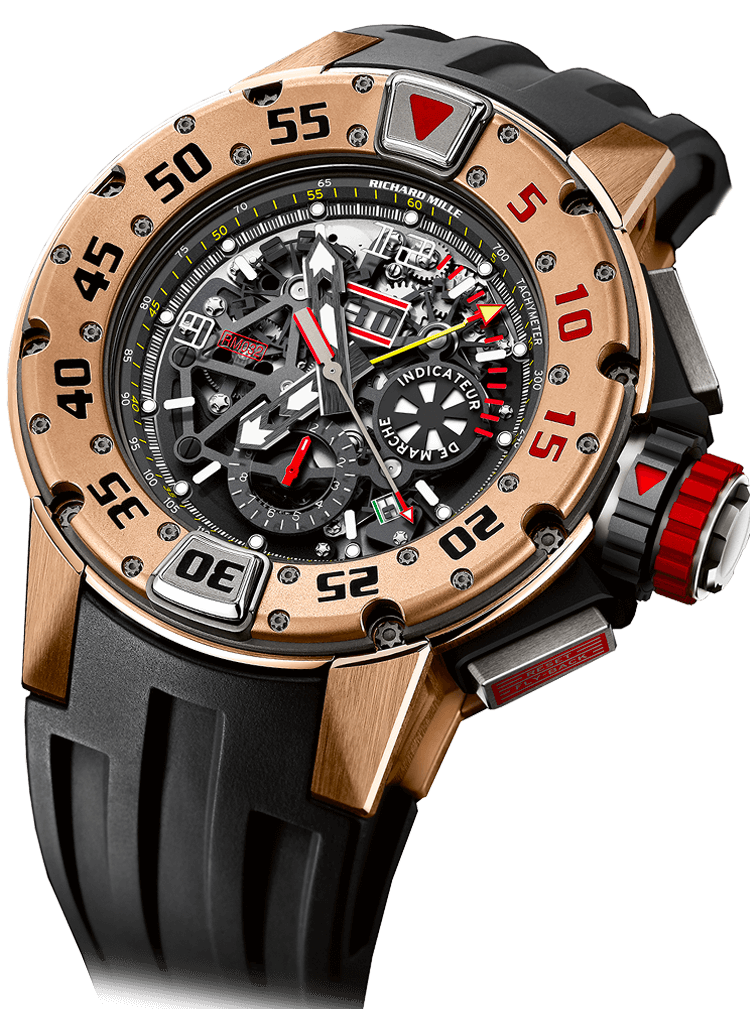 There Goes the Buzzer

That brings us to the end of our Michael Jordan round up and finishing on a Richard Mille isn't bad at all! Given Michael's stature both on and off the court, it's no surprise that he's got a fairly impressive watch collection.
Despite his obvious love of limited edition pieces, such as the Rolex Daytona, Michael also showed some love to the more simple and understated pieces such as the IWC Big Pilot. And with the superstar's wealth only increasing year after year, I'm sure we can expect to see him with some new luxury pieces in the not too distant future!   
As always thanks for reading and if you feel like browsing through some more luxury watches, why not check out what we've currently got in stock here at Watch & Bullion?