How Much Is A Rolex Watch? Rolex Prices [Post-Covid Update]
Watch & Bullion
12 January 2018 |

13

min read
Rolex Prices 2020
Rolex are the most popular and well known watch brand in the world. There is no doubt you will have heard of the Swiss heavyweight and chances are you'd probably love to get your hands on one too.
Rolex is a true legend of the watch market; founded over 100 years ago, they are known the world over for their beautifully designed, high specification pieces.

As part of their rise to global domination, the brand have remained a consistent symbol of style and success. This feat was cemented when they were recently voted the 64th most powerful brand in the world by Forbes.
The status of a Rolex watch doesn't always come cheap, given the brand's stature and quality, not everyone can grab themselves their very own piece of Swiss luxury.
So, let's tackle the big question here, how much really is a Rolex?
With many different models and configurations to choose from, we'll take a look at the Rolex market to help you understand what may be in your price bracket!
Update – As the initial spike of COVID-19 has come and gone, we've decided to revisit our Rolex price guide! Alongside this, we're also taking a look at the effect of the pandemic on Rolex prices with some changes having the potential to surprise watch enthusiasts and novices alike!
Quick-Scroll Links:
At A Glance: Popular Models
We've prepared this handy infographic to display the new, pre-owned, and 6-month price changes for some top models.
Regarding pre-owned prices, please note that these are starting prices, based on current references in good or unworn condition from reputable sellers in the EU.
References for the models shown are: Explorer (ref 214270), Explorer 2 (ref 216570), Submariner (ref 114060), Air King (ref 116900), GMT Master 2 Pepsi BLRO (ref 126710BLRO), Sea-Dweller (ref 126600), Daytona (ref 116500LN), and Day-Date 40 yellow gold (ref 228238).
Rolex Oyster Price
The Oyster range is a great place to start our tour of Rolex as it represents everything fantastic about the brand. It's classic style means it never goes out of fashion with its steel exterior giving it a robust and sturdy feel on the wrist.
The Oyster can be found brand new at a relatively modest £3,900 for the 26" model up to around £4,500 for the whooping 39 inch-er. As with most Rolex models, added configurations can be made but expect those to increase the price.
For those on a tighter budget, some very good condition second hand models can be found online, starting as low as £1,550. Whilst you may have to compromise on the customisation, a bargain can definitely be found to help you become the proud owner of a Rolex watch.
COVID-19 Price Update – Oyster price changes this year seem to vary by the model. For example, the 39mm model (#114300) has only seen a 3.5% increase whereas the 34mm model (#114200) rose by just over 10%. Overall, you're likely to see a slight increase in Oyster prices right not but they remain, on average, the cheapest Rolex and therefore one of the most popular beginner ranges.
Rolex Submariner Price
Arguably one of the most recognisable watches Rolex manufactures, the Submariner Range has lasted the test of time since its first release in 1953. The Submariner represents an evolution from the Oyster with black bezel and dial defining the look of the dive-watch.
The standard Submariner and the 'Submariner Date' kick off at around £6,000 new, reaching up and above £25,000 for certain models. As you move through the ranges some very classy customisation options can be found, including our personal favourite the Yellow Gold and Blue Cerachrom design.
With the Submariner being around for such a long time, pre-owned models are commonly found. As with the Oyster, deals are there to be had for different customisation options starting at around £4,000.
For the current reference (114060), pre-owned deals could be found from £7,200 as of August 2020.
COVID-19 Price Update – Submariner prices have been on the rise for years and whilst COVID hasn't stopped that down trend, it has slowed it. Across two different models we reviewed, prices rose in 2020 by around 4% which is in line with around 8% rises in the previous full years.
Rolex Explorer & Explorer II Price
Another fantastic model at the budget end of the Rolex spectrum is the Explorer range. For decades the Explorer has been doing just that, exploring. As the trusted timekeeping device for a number of mountaineering, polar and space expeditions, the Explorer matches robust design with classic, timeless style!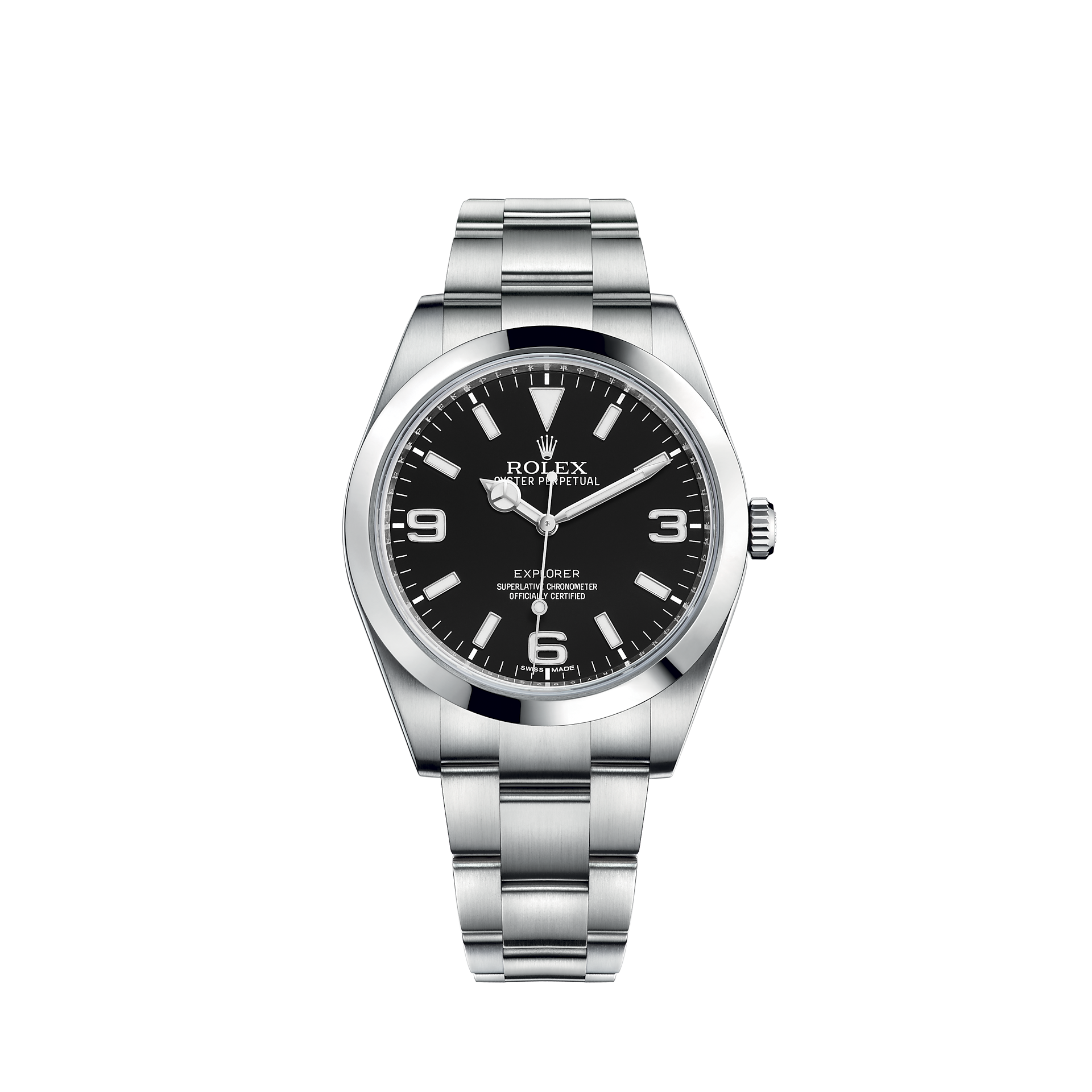 From a design perspective, the base level 39mm matches a black dial with an Oystersteel bracelet to give that distinctive Rolex look. This watch stands out with it's large numbering at the 3,6 & 9 o'clock positions and features the Rolex triplet of the lollipop, baton and, most recognisably, the Mercedes style hands.
The Explorer II range takes the watch a step further – incorporating additional features such as a date window and rotating bezel, alongside bumping the size up to 42mm.
Cost wise, both the Explorer and Explorer II sit nicely at the 'budget' end of the Rolex range. Direct from Rolex, an Explorer will cost £5,200 with pre-owned prices only slightly lower at £4,600. If you fancy jumping up to an Explorer 2, prices start at £6,650. Pre-owned, you won't find a huge saving unless you head for an older model, where bargains will start from £4,500.
If you love the aesthetic of the Explorer, but aren't ready to fork out for one, check out these options for Rolex Explorer alternatives!
COVID-19 Price Update – Across both Explorer (#214270) and Explorer II (#216570) models, half year price increases sit around 3.5 – 4%. This rise is in spite of a slight dip in price around March/April time but as we have moved into summertime, prices recovered.
Rolex Air-King Price
With diving and exploring covered off, it's only right that we bring you an aviation watch to feast your eyes on! With it's original inspirations dating all the way back to World War II times, the Air-King builds upon the Oyster with some classic aviation design stylings.
Big silver numbers sit atop a plan black dial, with Rolex's classic baton/lollipop/Mercedes hand combination running above it all. The watch now only comes in 40mm and couples itself with the classic Oystersteel strap we've seen before!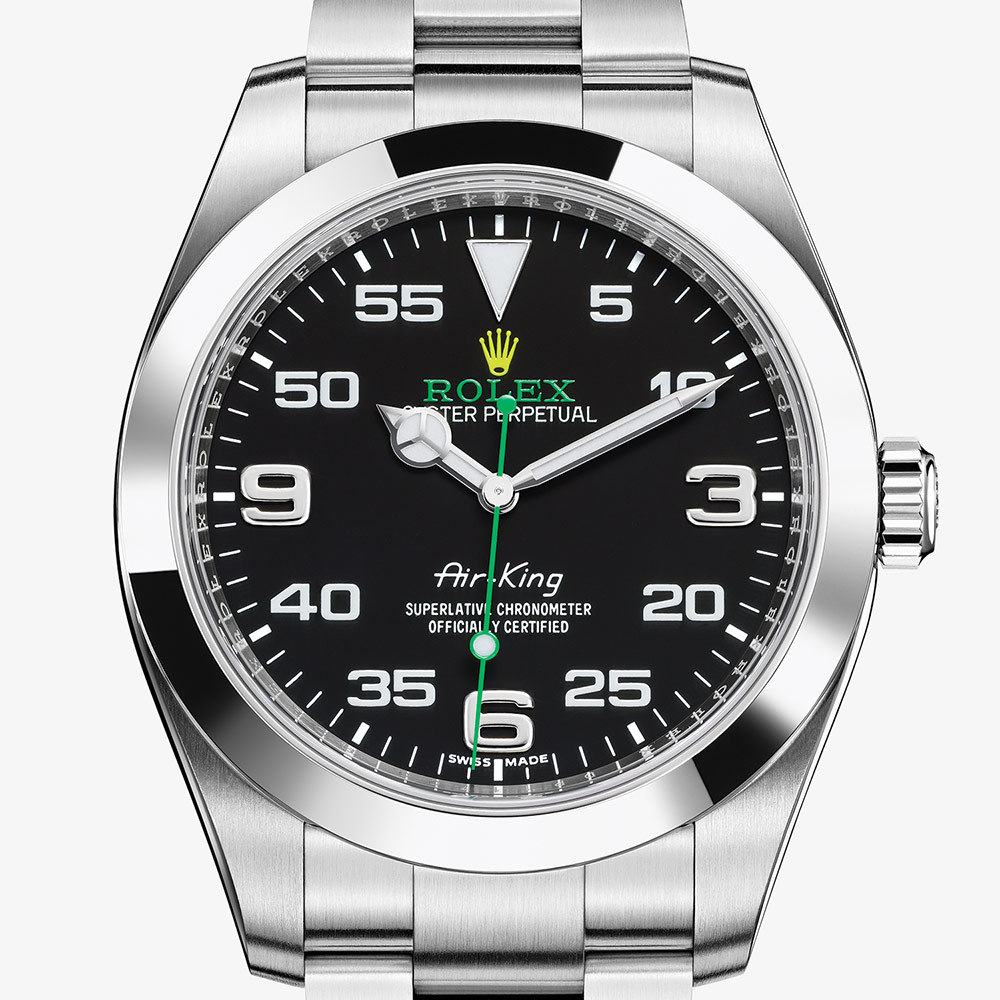 The Air King is often seen as the 'beginners' Rolex and as such sits at the affordable end of the spectrum! Brand new, the Air King model will set you back £5,150. This is another piece where the pre-owned price matches the retail, with many models actually retailing for more than Rolex's direct price. Older Air-King models are available under £1,500, but in truth is a completely different watch from a design perspective!
We found that the current reference (116900) can be found on the pre-owned market from around £5,800 as of August 2020.
COVID-19 Price Update – The Air King model has seen a second hand price rise of around 8% this year. Whilst this rise may seem steep, it's in line with the full year rise of 2019, which was 19% overall.
Rolex Milgauss Price
As a relatively unknown model from Rolex, the Milgauss is another fantastic way to enter the Rolex market at a cheaper price point! A nod to the great scientific discoveries of the part, the standout feature of this watch is its anti-magnetic properties.
On offer in both day and night variants, the Milgauss combines rectangular markings with lume baton hands overlaid on a plan aqua or black dial. The seconds hand follows a lightening bolt feature, further symbolising its 1000 gauss, anti-magnetic field resistance.
Brand new from Rolex, either Milgauss model will cost £6,650 brand new! Many pre-owned models can be found around the £5,500 mark but are often older models on a solid black or white face.
COVID-19 Price Update – It's a similar story with the Milgauss models, as half year price increases sit around 5%. As a fairly niche Rolex watch, this is quite surprising but again is to be expected at the lower end of the spectrum.
Rolex GMT Master Price
Featured in our Arnold Schwarzenegger article, the GMT Master Range was a groundbreaking piece at the time of its release in the 1950's. Created in collaboration with Pan Am Airways, it gave transatlantic airline pilots the tool they needed to track the minutes and hours across different time zones.
Since the 1950's, the GMT Master, now in its second version, has remained popular due to its classic design and robust DNA. Brand new, the steel version of the GMT Master II will set you back around £7,750 with the premium White Gold editions taking the buyer past £32,000.
Bargains can be difficult to come by for the GMT Master, but pre-owned models commonly found around £5,500. Be sure to keep an eye out though – there are subtle differences between the GMT Master and the GMT Master II, with prices for the latter coming in higher at around £6,500.
COVID-19 Price Update – Unfortunately the GMT Master II is one of the watches to suffer the fallout from the pandemic, with prices falling by around 4 – 6 % during this half year. This was seen across the famous Batman model (#126710BLNR) as well as the newer white gold version (#126719BLRO)
Rolex Sea-Dweller Price
If divers watches are your thing but find the Submariner a little boring, the Rolex Sea-Dweller range may be the one for you! With all the watches in the range giving a minimum certified depth of 4,000 feet, the range was founded on (and continues to be) its reputation as the ultimate diving companion.
All models in the range follow a similar design style, matching large lume markings, a date window and a rotating bezel! There are some slight design variances between the standard and 'Deepsea' models with colourings of black or two-tone black and blue available on stainless steel.
The base model Sea-Dweller will set you back £9,300 brand new, with the yellow gold version rising to £13,300. Whilst some older pre-owned Sea-Dweller models start around £5,500, the current range again actually start higher than retail at £10,300!
COVID-19 Price Update – The market for the Sea-Sweller has remained on calm waters with prices remaining fairly consistent. There was a slight increase across a number of models, but only minimal at between 0.5 – 0.75%.
Rolex Yacht-Master Price
Staying with the open seas, the Rolex Yacht-Master is perfect for those that like staying on top of the ocean rather than diving to its depths! With style baked in, the Yacht-Master combines similar stylings to the Submariner with added luxury and premium materials.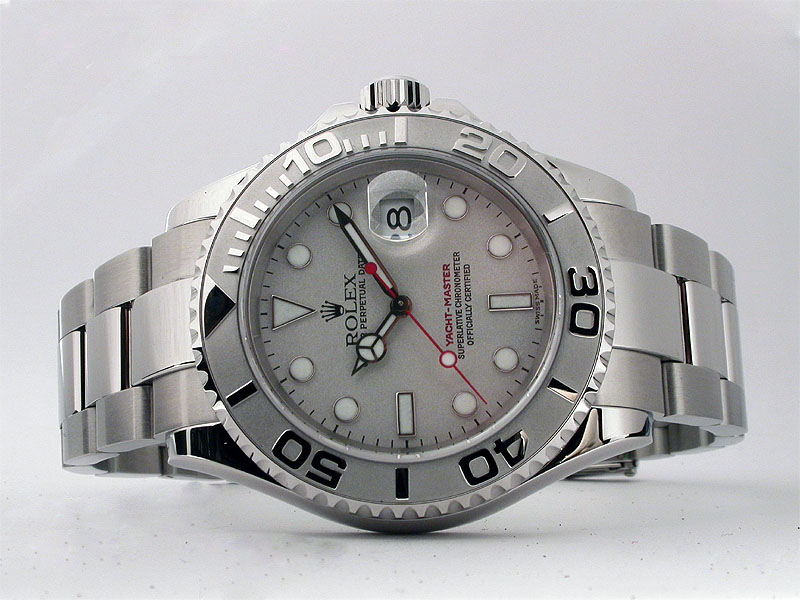 Whilst this watch comes in steel, platinum and everrose gold, its the models with an Oysterflex rubber strap that really catch the eye! If you're looking for something extra high-tech, the Yacht-Master II takes nautical tracking on step further, incorporating the only watch with a mechanical memory chronograph!
Cost wise, 40mm platinum models start at £9,550 with that popular white gold model rising to £23,100 brand new. Pre-owned prices drop down to around £4,500 for older models with the white gold model only dropping by £1,000 or so. Prices do vary greatly for the steel models, especially the 40mm versions given their high demand.
COVID-19 Price Update – Despite their high quality, Yacht-Master prices have seen a dip in the last 6 months. Having looked at two popular models (#226659 & #126655) prices have fallen by between 3.5 – 6%.
Rolex Sky-Dweller Price
Launched in 2012, the Sky-Dweller represents a new breed of Rolex watches. Moving away from the old, the Sky-Dweller combines intricate design styles with state of the art movements to bring a new standard to luxury watchmaking.
The Sky-Dweller 's Cal. 9001 has 14 unique patents and as such, doesn't come cheap. The Steel and White Gold model will set the buyer back around £11,850 with the stunning Everose Gold a real investment on a price per request basis.
As the Sky-Dweller is still quite a young watch the pre-owned market doesn't offer much in terms of depreciation. In fact, at some times, the price may actually be higher for rarer pre-owned pieces. Popular sites start their Sky-Dweller range around the £13,000 mark.
COVID-19 Price Update – It's a varied story for the Sky-Dweller with varying price increases. Some models, such as the #326934 have seen a big increase of up to 5% during the first 6 months, whilst others such as the #326933 has stayed well below 1%. It's likely worth looking into individual models if you're thinking of getting into the market.
Rolex Pearlmaster Price
All of the watches we have seen so far have followed Rolex's relatively smooth and sturdy design style. The next piece Rolex class as their 'crown jewel.' The Pearlmaster follows the exquisite design lines which Rolex are known for whilst adding a sparkling touch.
Only found in 18ct Yellow, White or Everose gold, the Pearlmaster's dazzling gemsets of Sapphire, Ruby and Diamond really help it stand out from the crowd.
As you would expect, a watch of this calibre will demand a higher price tag. Customisation options are wide ranging for the Pearlmaster with the entry level pieces come in around £23,000 whilst the premium models are strictly on an enquiry-only basis.
Older, less glamorous versions of the Pearlmaster can be found below £10,000 but for the truly eye catching pieces expect to be paying up towards £20,000 even within the pre-owned market.
COVID-19 Price Update – With the Pearlmaster pieces being quite unique and a number of them 'price on request' from new, there isn't a huge amount of data online. For models where there is, prices seem to have remained very consistent with no major changes up or down to report – 0%!
Rolex Cellini Price
The next watch in our list is a true outsider when compared to the pieces which have come before it, the Rolex Cellini. Whilst Rolex claim the range has a contemporary look and feel, it's very much a nod to the classic watchmakers of the past.
The main difference here is that the Cellini range takes a simple style approach whilst utilising only leather straps across all models. In keeping with traditional timekeeping methods, many of the Cellini models incorporate a classic moonphase design feature – appealing straight to the old school wristwatch market.
The entry level Cellini range such as the simple 'Time' model will cost the buyer around £11,000. If a more premium look and feel is required, the 2017 Cellini 'Moonphase' drops in just under the £20k mark at £19,700.
With the Cellini's simple yet timeless style, it has been going strong for a while with a second hand piece easy to find. An entry level Cellini can be found for under £1,500 and as such make it a fantastic way to get on the Rolex ladder.
COVID-19 Price Update – Both the Cellini models we reviewed had dropped in price since January. The Cellini Time model (#50509) in particular dropped nearly 9% whilst the Moonphase (#50535) fell by just under 2%. Averaging those two out, you can meet at about a 6% decline, but it's worth reviewing on a model-by-model basis.
Rolex Daytona Price
The Rolex Daytona is arguably the most popular Rolex watch found worldwide. Originally created with racing drivers in mind, the Daytona gives the wearer the ability to track speeds of up to 400 miles per hour.

Given its stylish looks and added functionality it's not hard to see why, since 1963, it has been one of Rolex's best sellers across the planet. The Daytona owned by legendary actor and race car driver Paul Newman, recently sold for a whopping £17,000,000 – the most expensive Rolex ever sold!
The new Cosmograph Daytona can be picked up today for anywhere between £10,500 – £23,000, with the most premium Platinum models retailing on a request only basis.
Astonishingly, due to the range's popularity, pre-owned models often sell for a huge price. As an example, the entry level Oystersteel Daytona, which retails at £10,500, won't be found any cheaper than £17,000 on popular pre-owned stores! This may be model you're better off getting direct from Rolex if you're willing to wait!
The current ref 116500LN could be found on the pre-owned market from around £19,000 as of August 2020.
COVID-19 Price Update – Based on analysis across three models, the price variance so far in 2020 sits either side of 0%. Some models have seen a small swing of 0.5-1.5% swing either way, but on the whole, the pandemic hasn't caused great movement. The 116500LN was down by 1.5% in the 6 months up to August 2020.
Rolex Day-Date Price
As one of the classic Rolex watches, the Day-Date is a dress watch for the purists of watchmaking and quality design. Historically, it set the standard for chronometer-rated, day/date watches as the first of it's kind in the 1950's. It retains that best in class reputation until this day!
Ranging from the 36mm yellow gold model to the 40mm platnium version, the Day-Date offers something classy for everyone at the right price points. Alternating between roman numeral, rectangular or diamond markings, te day date keeps a consistent date window at 3 o'clock with the iconic day indicator across the 12 o'clock mark!
That 36mm version will start you off around £29,000, with preowned prices dropping down to just over £25,000. The 40mm platinum is price on request if you want it direct from Rolex. Pre-owned prices do vary by country, but US sellers are putting models up for around £38,000.
If you want to grab a Day-Date 40 in yellow gold (228238) on the pre-owned market, we found that prices are starting from around £27,000 as of August 2020.
COVID-19 Price Update – The Day-Date has had an impressive half year with price increases hitting around 5% for the top performing models. Some drop down to around 4% but on the whole, the Day-Date is definitely on the up, despite the pandemic!
The current ref 228238 was up by around +3% in the 6 months up to August 2020.
That's a wrap!
Rolex's reign at the top of the watch market has been constant for a long while now and with style and quality assured, shows no sign of changing. The timekeeping heavyweight churn out over 2000 watches a day from their Swiss factories due to their continued popularity across the Globe.

With a classic style to suit every taste, there is a Rolex out there for everyone with some great bargains to be had.
So, which Rolex is your favourite?

Check out our range of Rolex watches here to find the piece you've always dreamed of.