PVD vs DLC Coating Treatment: What You Need To Know
Watch & Bullion
4 June 2020 |

6

min read
Our Look At Watch Coating – PVD vs DLC Treatments
The desire to modify a watch is not a new one – we've seen owners modifying watches for years with hundreds of different ways to get that unique look! But there's a new modification which in recent years has become more and more popular and that's coating.
Rather than just small tweaks to dial design or swapping out straps, watch enthusiasts are taking the leap towards a complete overhaul of the watch case and bracelet to give their watches a true makeover. It's a bone of contention with many watch enthusiasts as to whether it's the right thing to do for a watch, but for those that are interested, this article is for you!
We're going to run through a complete guide on coating – taking a look at the different types, the benefits of coating, some notable brands that offer it and how much you can expect to pay if you want an existing watch coated – read on to learn more…..
Quick-Scroll Links:
What Even Is Watch Coating?
Put simply, coating is where a watch is coated in a material which often completely changes its appearance and colour. Given that steel is an incredibly difficult metal to change colour chemically, coating is an affordable and relatively easy way to modify the overall look and feel of a watch.
But coating is more than just painting a timepiece;  it requires expert bonding methods to ensure a high-class finish that will be durable enough to stand the test of time, especially given the scrapes and bumps a watch will endure over its lifetime. Take a look at the Hamilton pieces below to see just how coating can change the entire look and feel of a timepiece!
Coating Options: PVD vs DLC?
When you start searching around for watch coatings, there's two options that will jump out at you almost instantly and they are PVD and DLC. We're going to take a look at each of them to understand them in more detail.
PVD or Physical Vapor Deposition is a coating applied to a watch through an industrial vaporisation process. This process essentially takes another substance and at a molecular level bonds it to the watch material. The coating here is usually super-thin, coming it at somewhere under 1mm, but unlike other methods such as powdering or electroplating, coating has a far higher level of durability thanks to the chemical bonding process.
DLC or Diamond Like Carbon, isn't actually a different process to PVD, it's just a different compounds. Whereas standard PVD utilises compounds such as titanium nitrate, DLC, as the name suggests, uses blasted carbon as the coating material. It is still applied using a vaporisation and rapid cooling process like PVD but by utilising carbon gives the finish an even greater level of robustness.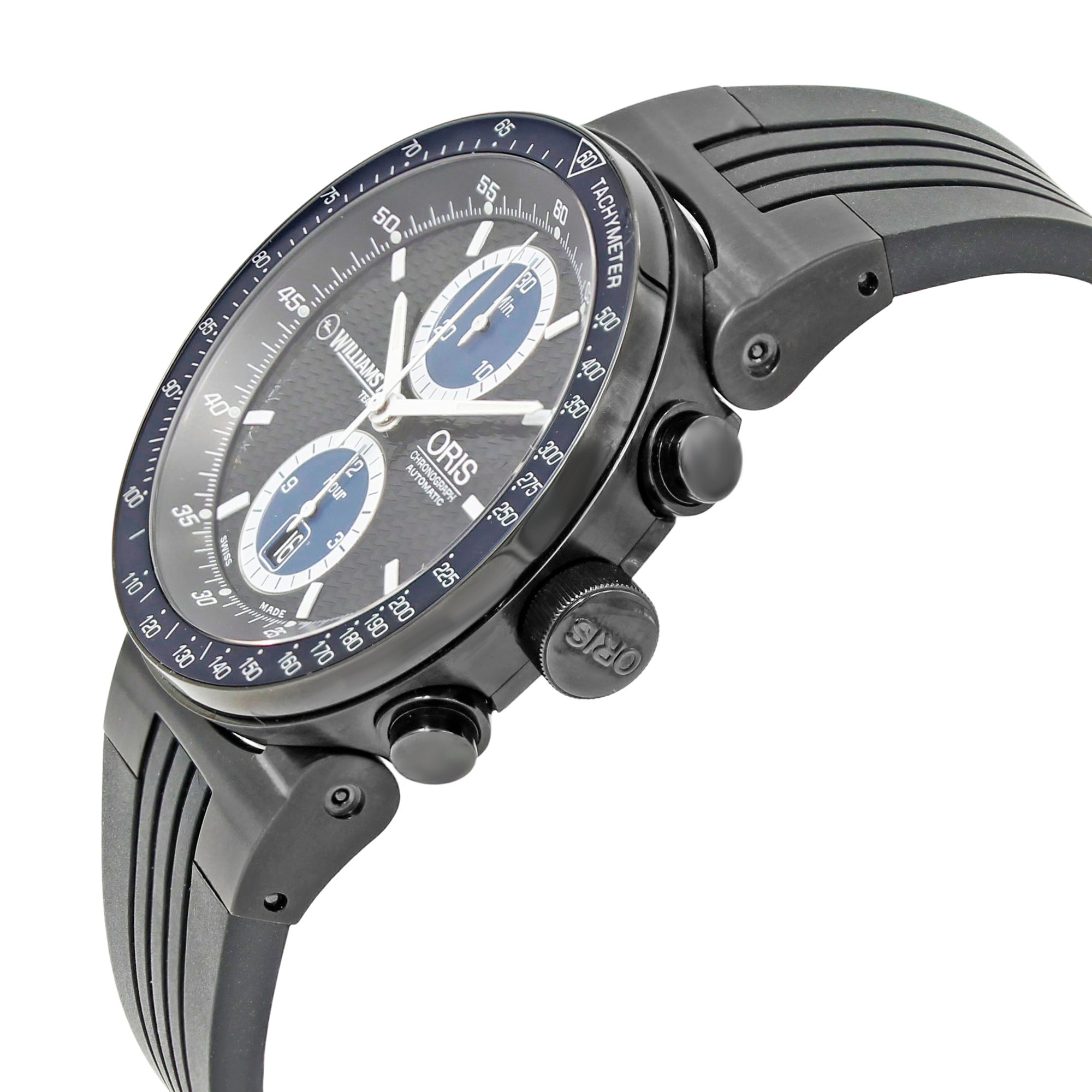 Through both methods a range of different colours can be applied, but in the vast majority of coatings, the owner will opt for a black/graphite look!
A comparison most watch lovers will understand is this: PVD is like a hardlex crystal, whereas DLC is like a sapphire one. They both do the same job, but DLC offers a greater, more robust and a better level of scratch proof finish. 
Why Get Your Watch Coated?
What would draw people into having their watches coated? Here's some of the benefits you may receive from applying some PVD or DLC!
1. Design – First and foremost, watch owners add coating to change up the way their watches look. There's no denying that on some watches, the matt black/graphite finish can look appealing and compliment the overall look and feel. This is especially true with sports watches but rare coated dress watches are out there too!
2. Robustness – As we've explored above, these coatings, especially those with carbon, provide the watch with a high level of scratch resistance. For those that are on the go, having a strong coating will help preserve the aesthetics of the watch for longer as well protecting its overall integrity.
3. Comfort – Many people also like the feeling of a coated watch on the wrist. The coatings often give a smooth, matte effect which some owners prefer to the normal feel of polished metal. With the coating also adding so little extra size/weight to the watch, it will be almost impossible to notice a difference meaning you won't compromise on how the watch feels on the wrist.
4. Value – Whilst this isn't true across the board, certain watches that have had a coating applied to them may actually lead to their overall price increasing. As with all aspects of the modified watch market, it comes down to individual tastes and rarity, but if you have the right coated watch and the right buyer, you could be on your way to making money!
Where To Get PVD/DLC Treatments?
If you already have a watch that you think would look great with a coating, there's a couple of options available to you.
Firstly, you can try heading to the watch manufacturer directly to see if they offer the service. If so, it's probably your best option given that they will know the watch inside out, understand exactly what's required and often have their own, unique coating compounds.

If not, there are a number of third parties that offer a full PVD or DLC coating service across a range of makes and models. Often you'll be required to send a picture of your watch first, and discuss exactly the finish you are after. From there, the process often takes around 14 days to complete, given the watch often has to be fully reassembled.
As with all things watches, it's important to do your research into your chosen supplier, taking a look at examples of past work and getting details on the coating solution used and how it is applied. Ultimately, choosing a trusted watchmaker with experience of coating will serve you well and hopefully lead to a great finish!
Coated Watches As Standard
With the popularity of coated watches rising, it isn't just the modification market that's riding the wave. Many of the best known watch manufacturers are now creating a range of 'black' coated watches themselves. So if you like the matte look, here's some of our favourites you can get on the market today – no modification required!
Tudor Black Bay Dark
Tudor's Black Bay range has been around for a little while, offering great competition within the crowded diving watch market. This Dark model specifically is coated in PVD, helping it stand out from the rest of the range whilst giving it that dark, mysterious look associated with black coatings. 

Regardless of the coating, this is still a fantastic watch giving 200m water resistance, unidirectional bezel, high grade lume and a sapphire crystal! 
TAG Heuer Aquaracer Calibre 5
The TAG Heuer brand are one of the most well known models at the bottom end of the luxury watch market, so to see them taking on coated watches is a sign of real demand. This piece utilises a PVD coating with a 'sandblasted' effect giving the watch a gradient-like finish. 

This watch embodies the high spec we've come to know associate with TAG, giving the owner 300m water resistance, a date indicator, a sapphire crystal and 38 hours of power reserve. 
Longines Mens Conquest Black PVD
If you've heard of Longines there's a high chance it will have been because of their V.H.P range. With this model, they've given the watch a complete makeover with an entirely matt black PVD coating which matches nicely into the black and red dial!

Source
This one is also stacked with features, with the small seconds, minutes and hour chronograph supported by a date window, sapphire crystal and a quartz movement. 
To Wrap Up….
Coating is growing in popularity throughout the watch market, and whilst some aren't convinced, there's a movement of owners loving the matte finish of a coated piece!
There's a number of different options out there, but ultimately it's about choosing the compound that best suits your watch. Like anything, the more you pay, the higher the quality with DLC solutions often favoured against some of the PVD compounds!
If you're a fan of the coated watch, you don't necessarily need to modify, with many ranges offering their own sub-set of coated pieces to appeal to all tastes in the market!
We're always interested to hear what you think of coated watches, let us know if you have any in your collection or if you fancy picking one up as your next purchase!
If you have enjoyed this article be sure to check out the rest of our blog right here.