Seiko 7002: A True Japanese Great. Review & Modern Alternatives
Watch & Bullion
20 June 2018 |

8

min read
Last updated June 2020
Since the late 1800's, Seiko have been pushing the bar when it comes to timekeeping across the world. With the introduction of their first wristwatch in the 1920's, Seiko vowed to create watches that were as stylish as their competitors, whilst being functionally rich and robust for the day to day wearer.

Short for the word "Seikosha", roughly translated to "House of Exquisite Workmanship", Seiko's founder Kintaro Hattori set out to dispel the 20th century myth, that any products made in the eastern world could not stand up to the quality of a western rival.

Whilst in the modern watch community Seiko are known for their mid-range pieces, it is important to note that the brand have been at the cutting edge of watch making across the last three centuries. Through the 20th century, Seiko pioneered the first Quartz and Kinetic winding watches, but it's their Diver range we're interested in today and specifically the Seiko 7002.
As underwater diving started to become popular in the 1960's, Seiko stepped into the water resistant watch market with the Diver 150M model. Zoom forward to 1988, and the 7002 took it's place as Seiko's front running and now fourth generation watch for divers worldwide.

Seiko were set as the go-to brand for divers, but the 7002 has become a watch with appeal far wider than just the water sport fanatics. So let's take a look at what makes the 7002 so popular, break down this iconic watch part and part and see how you can get your hands on one, or a modern alternative…
Quick-Scroll Links: Skip to what you're looking for 👇
Note: Watch & Bullion do not currently stock Seiko. Feel free to check Seiko prices on Amazon.
The Dial
The 7002 brings together style, simplicity and functionality to make it a truly legendary divers watch. It couples a matt black face with distinctive rectangular hour markers to maximise accurate timekeeping in underwater conditions. Both the hands and hour markers have a unique, green colouring given by the luminous finish to enable full sight in dark, underwater conditions.   
The hands again have a unique Seiko styling, with the minute hand incorporating an arrow-shaped design. The 7002 differed from its predecessor, the 6309, by returning to a date only indicator at the 3 o'clock position, leaving behind the day/date indicators of the past.
The 7002 was in the Seiko range between 1988 and 1996. During that eight year reign, a number of different variants of the 7002 were released with slight differences between them. Whilst slight size difference are out there, the 7002 measures 41mm in width, 45mm in length and a 13mm thickness. Whilst not the smallest watch in the world, the 7002 combines a sturdy, stainless-steel makeup within a streamlined design to ensure it is an asset and not a hindrance to all wearers, divers and non-divers alike.

The Bezel

The bezel is a key element to any divers watch, allowing the wearer to accurately track the amount of time they have been underwater. The 60 click, bi-directional rotating bezel of the 7002, provides full 360 functionality to the wearer.
Across the many variations in the 7002 range, the stylings of the bezel commonly changed to suit the different tastes of the diving watch market. The classic bezel seen above, incorporated the same luminous style as the dial with 'Pepsi' style bezels (as seen in the image below) becoming a popular choice for later releases.
The Strap

For the watch purists among you, the original 7002 strap consisted of a black silicone-rubber offering which was stamped with Seiko Diver's branding. It is extremely rare to find the original straps on a 7002, with replacement aftermarket straps commonly found due to the wear and tear a watch of this type and purpose encounters.
In some of the later 7002 releases, different strap styles and materials were released, again to appeal to different sections of the market. The use of stainless-steel Oyster and Jubilee straps were common, adding an extra robustness to the already bullet-proof 7002.  

The Stats
The legendary 7002 has a lot to it to ensure it's the timepiece of choice for the diving community, let's take a look at some of the stats:

– Water Resistant to 150m – 200m for Later Model
– Fully Automatic
– Movement Frequency of 21,600 BHP
– 40 Hour Power Reserve
– ISO 6425 Certified  
As you can see, the Seiko 7002 really packs a punch with it's underwater specs. Ready to get your hand on one? Well, let's take a look at the cost…
Seiko 7002 Costs: New & Used
With the Seiko 7002 last produced new in 1996, there are a huge range of high quality, second hand pieces on the market. If you're looking for a complete original, you may be looking at an elevated cost due to a limited number of unused models which haven't had services or after-sales modifications made to them.

Image Source
On the general market, a second hand, A1 quality Seiko 7002, like the one seen above, can be picked up for as little as £180. As always, changes in design styles,spec and condition can lead to price fluctuations as low as £90 at the time of writing.
A Look to the Present – Modern Seiko 7002 Alternatives [2020 Update]
We've established that the Seiko 7002 is a classic of not just the Seiko range but the drivers watch community in general. But maybe you've had a look at this piece, admired it's design and durability but wanted a more modern twist? 
Here's what's on the current diving watch market! 
Seiko Prospex Range
Let us introduce you to Seiko current diver's range, the Prospex. It draws upon the unmistakable stylings of the original 7002 diver range whilst sharpening the aesthetics and providing upgraded functionality inside the case.
It's a really broad range, so let's pick out a few of our favourites!
Prospex Special PADI Edition Samurai Black
The picture below shows the SRPB99 model with the 'Pepsi' bezel stylings.  It is ISO certified up to 200m, has the uni-directional rotating bezel and a date window at the 3 o'clock position.
If you're planning to use this for underwater diving specifically, it of course includes the luminous markings for easy underwater reading and includes the PADI (Professional Association of Diving Instructors) certification so you can be assured it is of top quality.
Quick Specs:
200m Water Resistance
Date Window
Uni-Direction Bezel
Diameter – 44mm
Thickness – 12mm
Weight – 10.8 Ounces
If you like the look of this model, why not check it out below?
Seiko Prospex Samurai
If you're not a fan of the blue/red pepsi colourings and want to be a little closer to the original 7002 colours, the standard Prospex Samurai may be the one for you!
Specs wise, this one is incredibly similar to the pepsi model above, still boasting the 200m water resistance, luminous markings and date window.

Design colour aside, the major difference here is the lack of PADI partnership but this isn't to say it's not a fully certified, highly reliable dive watch!

In fact, this has been one of Seiko's most popular watches in the last 5 years, bringing together the classic design, great functionality and handy additional features for diving such as a hacking movement and manual winding!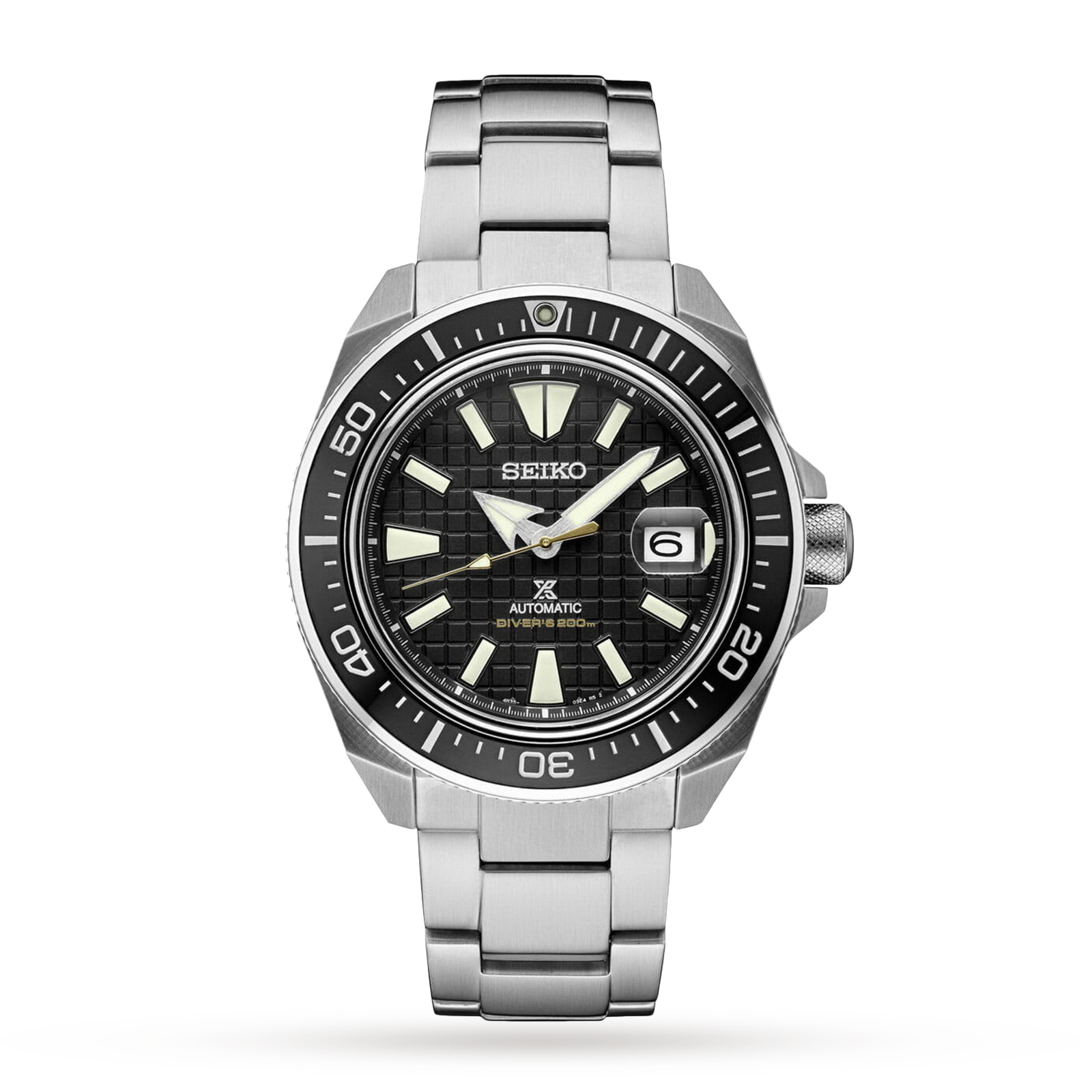 Quick Specs:

200m Water Resistance
Date Window
Uni-Direction Bezel
Diameter – 44mm
Thickness – 12mm
Weight – 11.2 Ounces
Fancy picking up one of these? Head over to Amazon below!
Seiko Prospex "Arnie"
The last Prospex piece we're taking a look at is one with a bit of a difference, the Seiko Prospex 'Arnie.' Anyone familiar with watches will know that Mr Scwarzenegger is associated with a lot of watches and this one comes from it's feature in films such as Commando and Predator.
This watch features a highly reliable quartz/solar movement, providing power reserve up to 10 months! It features all the features we've seen in the other Prospex pieces too, including 200m water resistance, lume, PADI certification and a rotating bezel.
It also features a back lit, LED display offering chronograph and alarm features – perfect for keeping track of the time underwater!
Quick Specs:

200m Water Resistance
Date Window
Digital Chronograph Features
Uni-Direction Bezel
Diameter – 47.8mm
Thickness – 13.8mm
Looking for a dive watch with digital powers? Click below to get your hands on one!
Other 7002 Alternatives
Aside from Seiko, there's a number of different diving watch manufacturers on the market. And whilst all of them follow the same outline look and feel, they have their quirks to suit different tastes.
Let's take a look at some standout performers!
Citizen Eco Drive Promaster Diver
First we come to Seiko's old nemesis, Citizen. The Japanese brands are often put head to head given their similar styles, history and price points. The Promaster Diver is a great alternative to a Seiko 7002 or Prospex as you'll see below!
With it's 200m water resistance, rotating bezel, lume markings and date window, it's nearly a carbon copy of the classic Seikos. The key difference with this watch, and indeed most Citizens, is the movement.

This one's powered by Citizen's Eco Drive solar movement, utilising natural light to keep the watch powered for months on end.
Quick Specs:

200m Water Resistance
Date Window
Uni-Direction Bezel
Diameter – 44mm
Thickness – 12mm
Like the look of the Citizen? Check out prices below.
Orient Men's Kamasu
Moving away from the Japanese brands, another fantastic and popular option comes from Orient through their Kamasu model!
Known for their mix of high quality and reasonable prices, Orient have a number of dive watch options but the Jamasu is up there as one of the best. It has all the specs to rival the other watches we've seen, including 200m water resistance and rotating bezel as well as enhancements such as a day/date window and sapphire crystal.
The Kamasu also comes in a range of style options, with your choice of red, blue, green or black dials alongside steel and rubber straps!
Quick Specs:

200m Water Resistance
Day/Date Window
Uni-Direction Bezel
Diameter – 41.8mm
Thickness – 12.8mm
Weight – 3.6 Ounces
Mix and match your very own Orient Kamasu below!
Casio Men's Duro
To finish up, we take a look at another great budget brand in Casio, and this time at their Casio Men's MDV106-1AV 200M Duro model.
Whilst being a lot cheaper than some of the other models we've seen above, it keep up in regards of its specs boasting the same 200m water restistance, lume markings and date window we've seen before!
Casio are well known for the durability of their G-Shock range, and the Duro is no different matching a tough stainless steel case with a resin band.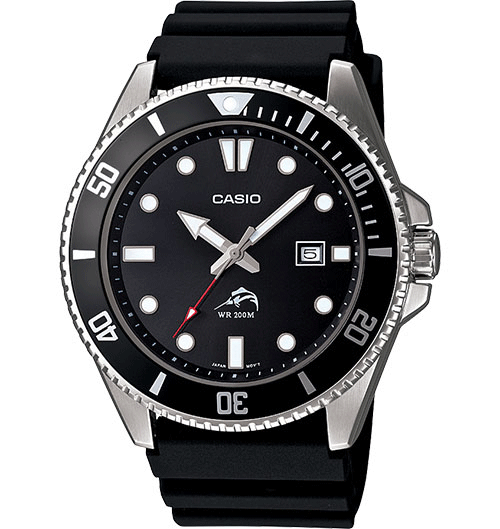 Quick Specs:

200m Water Resistance
Date Window
Uni-Direction Bezel
Diameter – 44mm
Thickness – 12mm
Weight – 2.89 Ounces
Like the simplicity of the Casio? Check out prices below!
The Verdict
Seiko's mid range offering, often leads to them being disregarded among the most popular watch brands in the world. Since 1880, Seiko have been revolutionising the watch market, with big strides forward made in Quartz and Kinetic technologies.

Now seen as true specialists in the diving watch market, Seiko have made a name for themselves in the sports market, with the classic 7002 the piece of choice for many. With it's sturdy and robust makeup, luminous design style and functional bezel, the 7002 maintains it's dominance nearly 30 years after its first release.
Unfortunately, they can be tough to find in good condition, so you may need to shoot for a modern alternative. The Prospex range is Seiko's leading range now, with a number of options to help you get a 7002-inspired piece. Aside from Seiko, a number of brands such as Citizen, Orient & Casio offer great alternatives, so there's plenty of choice to be had!