What are Railroad watches? A short history and 4 modern options
James Elliott
5 December 2021 |

6

min read
Travel and watches are invariably linked. While this is most notable in the aviation and racing genres, many people don't know that railroads would have ceased to exist without specialist railroad watches!
In this article, we'll dive into the history of railroad watches. After we've looked at exactly what they are and taken you through a short history lesson, we'll look at some modern watches which emulate the classic railroad styling.
All aboard, let's go!
Quick Links:
What is a Railroad Watch?
A railroad watch was a very specific type of watch back in the day. To ensure conductors could keep trains on the tracks, a railroad watch had to reach a certain standard of time accuracy to ensure everything ran smoothly.
There there were several features that were mandated inside the case. But, you could always spot a railroad watch because of the following key characteristics:
Railroad watches featured highly accurate automatic movements
They had a plain white or silver dial
They had large, black Arabic numbers
Each minute was delineated
Much like we see in field or aviation watches today, the goal of a railroad watch was to be super accurate and incredibly easy to read.
The above is an example of a Hamilton 992B railroad-approved pocket watch. Nothing too fancy, with no thrills on the dial, just a highly accurate, easy-to-read pocket watch!
A Short History of Railroad Watches
Back in the 1800's America had a problem. Rail was the best way to transport goods across the country, but the network of trains was unreliable and prone to disaster. This was mainly due to conductors being out of sync when it came to their timekeeping.
And there was one incident in particular that shook the railroad industry. In 1891, a head-on train collision in Ohio killed 11 people caused by a 4-minute time-keeping difference between two conductors. The crash created wide-scale nervousness around rail transport safety, and a solution was needed fast!
The railroad industry went to work with some of the biggest watchmakers of the time to create a range of highly accurate watches. Standards were set to ensure watches were made of high-quality materials, were easy to read, and crucially were accurate to +/- 30 seconds per week.
As the standard evolved, design variations came from a range of manufacturers but all centered around a clean white/silver dial, large black numbering, and clear minute delineation. Almost by accident, this created a style of watch people have loved for many decades to come, even if they aren't associated with the railroads!
4 Railroad-Inspired Modern Watches
While many watch manufacturers don't sell a specific railroad watch, the classic design styles live on. Here are four modern-day picks which emulate the style of a classic railroad watch.
As you may have noticed earlier on, Hamilton was one of the chief American manufacturers of railroad watches in the late 1800s. They make a nod to this heritage in their current 'American Classic' range with the RailRoad Auto.
Now you might be forgiven for looking at this watch and thinking it doesn't really fit with all we've said before. Mainly that this watch doesn't go for a large Arabic numbered approach and instead goes for slender accuracy.
The 40mm watch comes in several different color combinations, including the champagne/black shown above, and features Hamilton's highly reliable H-10 movement with a whopping 80 hours power reserve.
50m of water resistance, a sapphire crystal, and an open case-back complete a package that combines high-quality specs with a railroad design that's different from many others. If you like the look of this watch, it's a real step up in class and will cost you around $925.
Next up, a staple of the budget watch world in Timex. Dating back to the mid-1850s, the brand has some serious pedigree in building watches and now delivers very affordable, well-built quartz pieces.
Their 35mm Easy Reader Day-Date model is a prime example of what made railroad watches so famous. Thanks to the large black Arabic numerals on a white dial, it's highly accurate and easy to read, all driven by the quartz movement.
This might not be the sexiest watch we've ever featured on the Watch and Bullion blog, but it does an excellent job at being an all-around beater thanks to its day/date functionality, nightlight, and 30m water resistance. And for around $30, it's a hyper-affordable way to emulate the traditional railroad style.
That's the last budget model we'll feature as to be a true railroad watch, we need to include a highly accurate automatic movement!
With this the Trainmaster from Ball, we're really moving into the big leagues of homage railroad watches. After the Ohio train crash of 1891, renowned American jeweler Webb C. Ball was commissioned as the Chief Time Inspector and from there became the founder of the railroad standard.
Given that history, it's no surprise that the Ball watchmaking company still makes exceptionally well-designed railroad watches, with the Standard Time 135 Anniversary the ultimate homage to an era of increased safety and accuracy.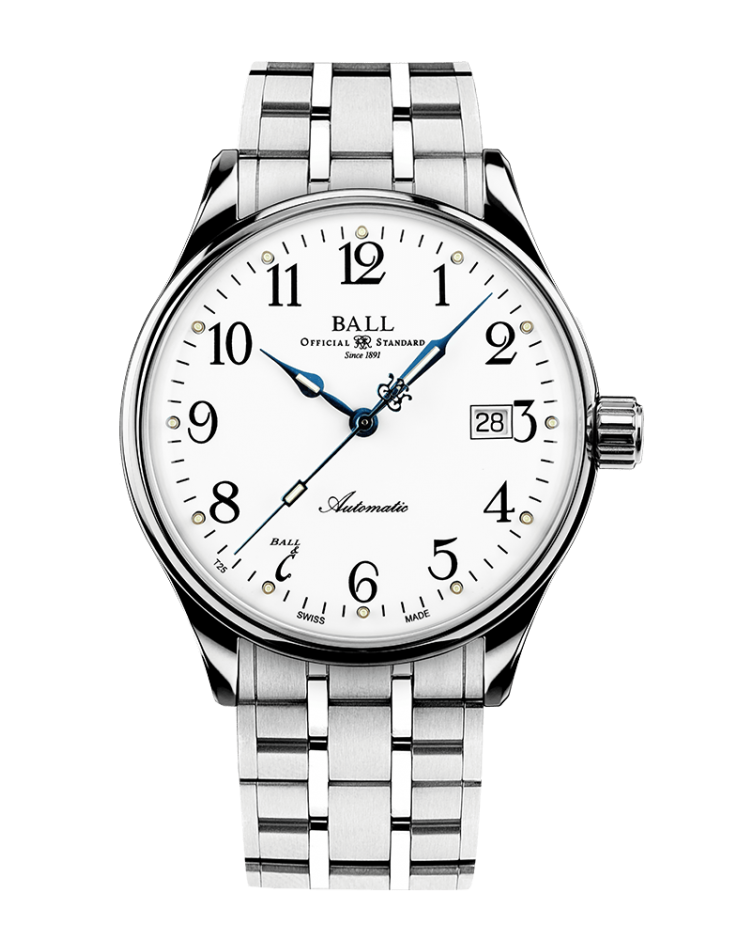 This 40mm piece is beautiful and incorporates the clean dial, large Arabic numeral design that's synonymous with the railroad industry. It's a high-quality piece, too, with a sapphire crystal, enamel dial, and the Ball automatic caliber RR1101 found inside the case.
If you like the look of this watch, it'll set you back around $1,800. If you're really into railroad watches, there is literally no better manufacturer to go for here, so for this price, it's unbeatable. (Also, check out Ball's other Trainmaster watches if you like what you see!)
Another well-known modern manufacturer who has made several attempts at replicating the railroad era is Longines. Given the brand is famous for its clean and simple watches, it's not really a surprise they've dived into the railroad genre either.
The Longines Master Collection is the closest production watch to a classic railroad model, with the clean design, large Arabic numbers, and classic font replicating a bygone era.
The 38.5mm piece is super stylish, and we especially like the pattern Silver "barleycorn" dial, which adds another layer of class and sophistication. A high-class caliber L888 movement drives the whole thing, with premium sapphire crystal and alligator strap rounding off something special here from Longines.
This is the most expensive watch of the lot, coming in at around $2,000. But if you like the design styles of a railroad watch and want to stick will a modern, luxury brand, The Longines Master Collection, could be the right watch for you!
Summary
Much like aviation and racing, the railroad industry has its links with timekeeping. The tragic train crash of 1891 brought about a whole new breed of watches that needed to be highly reliable and easy to read.
While not many brands market a specific railroad watch nowadays, the design style lives on and is an incredibly sleek look to have on the wrist. The watches we've featured today from Timex, Hamilton, Ball & Longines just scratch the surface of what's out there, so feel free to take a look around, and we're sure you'll find the perfect railroad watch for you!