7 of the best Green Dial Rolex Watches
Simon Schneider
23 March 2021 |

6

min read
Coloured dials have always been something special for Rolex. Why? Well, because as a brand focused on utilitarian sports watches the largest fraction of their models get delivered with black, or rarely white, dials for sake of legibility. Despite its serious demeanour, Rolex is no stranger to having some fun with their timepieces proven best by their stella dials back in the 1970s.
With a changing demographic of watch buyers looking to have more expressive watches that stand out from the crowd, there has been a clear trend in the market towards more colourful watches. The best example of this is the incredible success of the Rainbow Daytona. The watch was almost seen as a joke upon release but is now one of the hardest models to buy and has inspired many other brands to follow suit.
In a previous blog, we have already talked about the best blue dial watches from Rolex which is currently the most in vogue colour in all of watchmaking. Today we will talk about a colour whose significance is more exclusive to Rolex watches, green dial watches.
Why green? Well, first of all, because it is a handsome colour that you so seldom see done well. Beyond that, green holds a special significance for Rolex as it is their brand colour. As such we have seen it reserved only for special watches or anniversary events to pay respect to their own product families.
So, enough talking, let's get into it!
Quick Links:
7 Green Dial Rolex Watches
Without further ado let's take a look at the six best modern green dial Rolex watches:
1. Rolex Oyster Perpetual 41 ref. 124300
We are going to start things off with the Oyster Perpetual collection that made quite the splash upon its release in 2020. It is easy to understand why since colours so bold are usually only reserved for more expensive models. While the Tiffany blue model became the centre of attention, the green dial version is equally attractive.
The green has a matte finish exclusive to this model which helps make this introductory piece from Rolex exceptionally legible. The actual colour shade is very close to British racing green and is the same you would find on a Rolex box. The strong colour is certainly an eye-catcher but does not come across as flashy since the metal finish is all brushed.
It is not a stretch to say that this arguably the very best configuration Oyster Perpetual Rolex has ever made which would be equally well suited to being a starter watch for a young collector or a fun alternative for a seasoned enthusiast.
2. Rolex Submariner Hulk ref. 116610LV
The next watch on our list is the watch that has started the green trend. If you ask any watch nut to think of a green dial Rolex they are bound to have an image of the Hulk in their mind. With its striking green ceramic bezel and dazzling sunburst dial, it's looks alternate completely depending on where you wear it.
Upon being released the Hulk was actually rather unpopular and was left to collect dust in the windows of Rolex ADs since conservative collectors preferred the all black version.
All that flash and hype surrounding this watch doesn't change the fact that there is a Submariner underneath which is one of the most capable dive-watches ever made. The reliable 3135 movement is a workhouse movement that been used since the 80s and only recently sent into pension by the new generation 3235. Together with the old-style Super-case with its chunky lugs the Hulk makes a good case for being the most iconic Rolex model of the last decade.
3. Rolex GMT-Master Anniversary Dial ref. 116718LN
The next watch on our list is a sleeper hit that is poised to take off at some point. We are talking about the solid yellow gold GMT-Master II initially introduced at Baselworld 2005. It was fitted with a lacquer glossy green dial in honour of the 50th anniversary of the model. The green is paired perfectly with golden indices, hands, and text.
Beyond just being a significant watch for the GMT-Collection it is also important for Rolex as a brand because it was the first watch, they introduced which had the super-case, the solid bracelet and end-links, the milled clasp, and the ceramic bezel with golden inserts. This makes this watch the prototype Rolex for the design language that defines the brand to this day.
While it has already gained in value since its lowest price, it is still in the relative world of Rolex pricing, a bargain being the cheapest solid gold watch on our list as well as the most important one for the brand.
4. Rolex Day-Date 40 ref. 228235
The Rolex Day-Date was a collection always privy to more colourful dials. In fact, the original stella dials, which are commonly seen as the first among bright coloured dial Rolex available, used to be exclusive for the top dog in the Rolex collection. Historically only being made in precious metal it is understandable that customers wanted something that stood out among the crowd in recognition of the price you have to pay for one of these watches.
While upgraded in many different small ways the essential formula of the day-date still remains intact to this day. With the day and date displayed in a precious metal case and ideally with a presidential bracelet it has become one of the most recognisable watches in the world and can be spotted all throughout the last century on the wrists of royalty and heads of state alike.
The Day-Date 40 has upgraded the traditional diameter of 36mm to a more contemporary look and the polished Roman numerals are the most handsome indices Rolex offers which perfectly complement the fluted bezel.
5. Rolex Pearlmaster Masterpiece ref. 86348SABLV
The Rolex Pearlmaster is a true underdog from the brand. Being known for their steel sports watches the Pearlmaster range is where Rolex experiments with precious metals, gemstones, and dressy designs. As such it is the antithesis to all the ingredients that made Rolex who they are today.
The model we have chosen here uses the Datejust as a platform in a solid 18k yellow bracelet and case with 39mm in diameter, a stunning olive-green dial with diamond hour markers, and a bezel set with 48 blue to green and yellow gradient baguette-cut sapphires.
The Pearlmaster range surely isn't a watch for everybody, but it is truly stunning in person. With a completely polished finish the yellow gold pops like on no other Rolex and the bracelet is made. Those that can see themselves wearing this more extravagant watch will be rewarded with a great value proposition and true rarity.
6. Rolex Daytona ref. 116508
Our final piece is the hottest commodity in green dial Rolex watches currently available. The 18k yellow gold Rolex Daytona with a dark green sunburst dial and red accents was released back in 2016. Overshadowed by the new stainless-steel Daytona these models were initially slept on and easily available. This changed once it was featured in a Hodinkee episode with John Mayer and has been unavailable for the mere mortals ever since.
This model is sure to be a future collectable, and without a doubt the best green dial watch Rolex makes!
7. Rolex White Gold Daytona Beach with Green Chryosoprase Dial ref. 116519
If instead though you fancy going against the grain and going for a different type of Daytona, we'd recommend taking a look at the Daytona Beach 116519 White Gold model.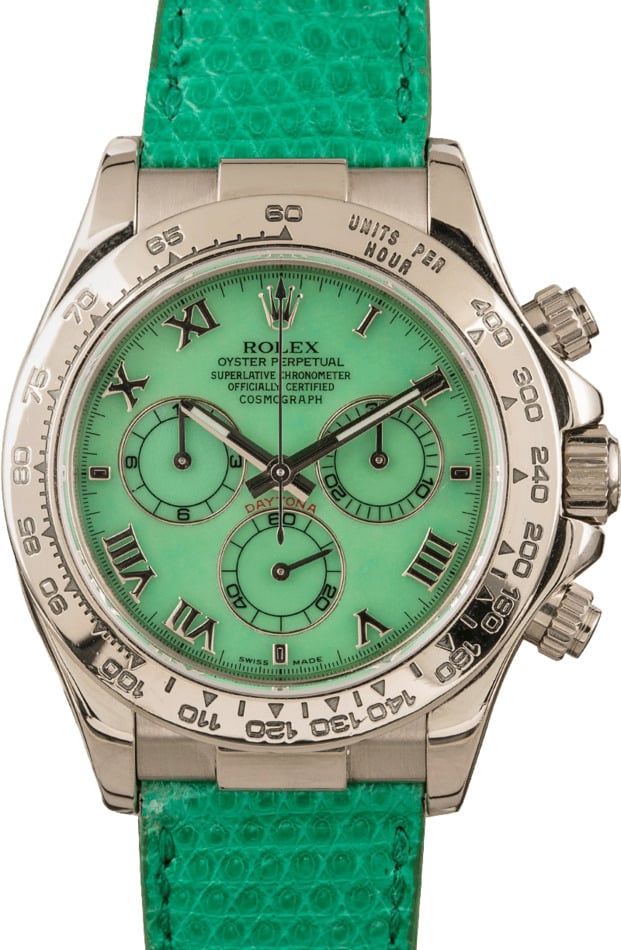 This particular reference was produced until 2015, the Daytona Beach series has become very collectible with full sets commanding very high prices with this particular green dial version being very popular.
Hope you enjoyed our round up of 7 of the best Green Dial Rolex watches at every price point.
Featured image credit: timeandtidewatches.com